Private Security Authority Licence 00484
Access control is crucially important for the security of buildings, property, employees and their belongings. It is about managing the flow of people into, around and out of buildings.
Monitor can design an access system suitable for your property in accordance with the new NSAI EN50133 standards for which we are fully licensed. The three main functions of access control systems are to:
a) monitor the locations of individuals within a building
b) control where individuals are able to gain access and
c) manage individual user permissions to ensure that access is granted to the correct individual to the correct areas at the correct times.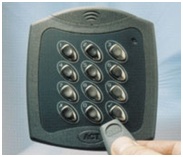 There are various levels of access control available, depending upon the requirements of a particular site. Systems can vary from single door systems to standalone access control system up to larger networked PC based systems. All systems provide a level of security far greater than the more traditional 'lock and key' approach. Keys can be lost or copied, and the fact that doors have to be manually locked after every entry or exit, often results in them being left unlocked. Installing an access control system means that you will never have to change a lock again.
Electronic access control provides the most efficient and convenient way of securing your building and assets. Key fobs are issued to allow access through the controlled doors, and are easily barred from the system if they are lost, stolen or just not returned by someone who leaves your company. Barred fobs will not allow access through the controlled doors.
Once an access control system is installed, all doors controlled by the system will automatically lock when the door is closed. Anyone without a PIN or access fob is unable to enter. If required, doors may be set to unlock during a designated time frame.
Applications
Access Control
Door Monitoring
Gate & Barrier Automation
PC Interface
Reports, Time and Attendance, Roll Call
Access control offers a secure, convenient, flexible and cost effective way of controlling who has access to your building and when that access is allowed.